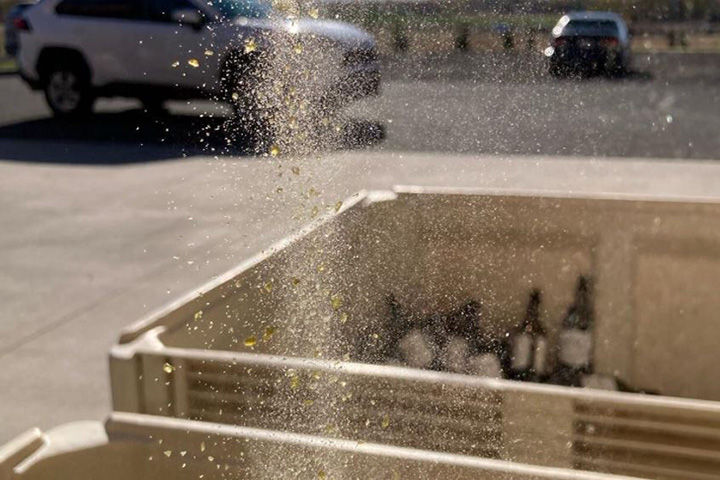 Sustainable farming and winemaking practices are essential to preserving the long-term health of our environment and our community. Since our inception, we have continued to develop new programs that preserve our local ecosystem and ensure the authenticity and quality of our wines. Three Rivers Winery received the Live Certification for our estate vineyard in March 2022 and Certified Sustainable Washington Grower in December 2022, with our winery certifications soon to follow.
Here are some of the techniques we currently employ at Three Rivers:
Glass repurposing
Foley Family Wines sponsors the glass repurposing project in Walla Walla, WA. Ground 2 Glass processes around 600 pounds of wine bottles every week by pulverizing them down to clean sand.
Three Rivers uses this glass sand in our horseshoe pits and pathways.
Soil Management
Minimized Tillage – Prevents top soil erosion and reduces organic matter break down.
Natural Fertilizers – Brings soils into balance and encourages helpful indigenous bacteria.
Water Management
Micro Irrigation Systems – Reduces water usage.
Regulated Deficit Irrigation – Reduces water usage.
Weed & Mildew Management
Beneficial Insects – Minimize harmful insect population in the vineyards by planting "beneficial borders"-flower gardens-around the property vineyards.
No Pesticides – Maintains beneficial insects in the vineyards
Sulfur and Mineral Oil Applications – Controls mildew infections in a low-impact manner.
Minimum Strip Spraying – An effective way to control weeds.
Routine Maintenance – Lowers fuel usage.
In the Winery
Packaging Materials Recycling – All cardboard, corks, capsules and plastic are recycled.
Barrel Recycling – All barrels are sold for planters or used as storage containers.
Grape Skins, Seeds and Stems – Sent to compost facility.
Energy Audits – Ensures all machinery and equipment run efficiently.
Electric Forklifts – Low carbon footprint.